FACES of Pain Care – Episode 2 – Daniel Abazia, PharmD, BCPS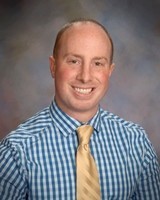 Walk with Dr. Daniel Abazia as he describes the journey he and his wife took after she was diagnosed with breast cancer, through the treatment options, surgery solutions, and finally the post-care. Dr. Abazia is a clinical assistant professor in the Ernest Mario School of Pharmacy, Rutgers University.
His expertise and professional interests include pain management and palliative care, which enhanced and informed his experience while balancing his expertise with the love for his wife.  Join us for this informative and heartfelt interview.
We mentioned the Wong-Baker FACES® Pain Relief Log on this episode.  You can check it out here:  Pain Relief Log.